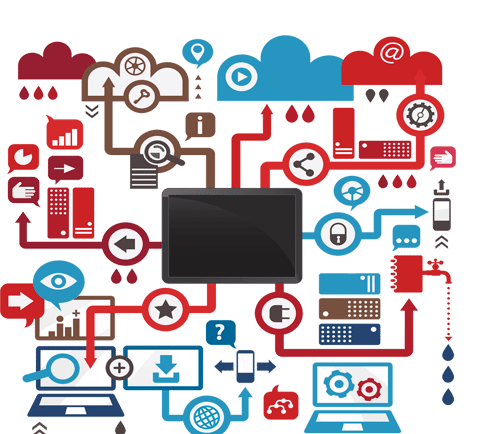 MetaTechnical's Managed IT Services
MetaTechnical is a Managed IT Services Provider that offers services for businesses of all sizes.  We also do residential smart home integration.  See what MetaTechnical can do for you.
IT Infrastructure Planning
Having a well built IT infrastructure is the difference between a highly productive, frustration-free day at work and the alternative.  If you currently have an 'alternative' office and want to streamline your daytime digital workflow, schedule a consult.
Active Directory Management
Setup and manage users from a centralized domain
VPN Design and Setup
Connect with your office infrastructure from home or while your traveling with a secure Virtual Private Network (VPN)
Server Maintenance & Upgrades
Servers require constant updates to make sure your data is secure and accessible. We can take care of all on-site server upgrades and maintenance.
Amazon Web Services, Google Cloud, and Microsoft Azure Integration
Run part or all of your oganization in high speed data centers protected by industry giants such as Google, Amazon, and Microsoft.
Point-to-Point Long Distance Wireless
Connect offices up to 50 miles with high speed line-of-sight wireless connections
Large Building WiFi installation
Get every computer in your building on the same network and increase produtivity.
Computer and Asset Management
Keep inventory of and maintain all aspects of your IT infrastructure.
Server/Domain and Workgroup Setup
Network your computers and peripherals for easy access to all your files and devices.
VMware and Microsoft Hyper-V
ESXi, vSphere and Virtualized Servers are all available.
Help Desk Support
Knowing who to call when something breaks is important. Knowing that the person you are calling can help you and will make your problem a priority is essential. MetaTechnical offers Help Desk services so you can easily tackle the day-to-day challenges of the digital workplace.
Remote Support
Many problems can often be solved remotely. A technician at MetaTechnical can log directly into your computer and fix whatever this is saving you time and getting you back to work faster.
Tutorials and Training
We can offer IT training for your entire staff on multiple subjects. Schedule a consult if you are interested in having us work with your staff.
On-Site repairs
When things break, and they often do, a MetaTechnical technician can come to you and get you back to work quickly!
Hosting And Cloud
Office infrastructure is important, but there are many elements of your business you want to be able to access on the go and from everywhere. When it comes to cloud hosting, we've got you covered.
Secure Offsite Backups
Automated Backup Services can ensure that any data loss can be restored quickly, getting your team back online and running.
Website Hosting
We offer hosting for all platforms and services (PHP, Node.JS, ROR) that your site is built on.
Customized Hosted Servers
Using a third party vendor for some of your data management?  Migrate your customized applications to MetaTechnicals fast and secure servers.
Hosted Applications
QuickBooks, FileMaker, Web Based CRM Applications, we can host all your businesses database and external applications.
Private/Secure Exchange Email
MetaTechnical can replace your antiquated email system with a modern and secure Microsoft Exchange based email system.
Quickbooks Hosting
Access your Quickbooks from anywhere! Our cloud based Quickbooks hosting increases productivity while maintaining the security of your account.
IT Staffing
Is your business growing? Do you find yourself needing on-site support more and more frequently? We can provide a dedicated technician, full- or part-time, to care for your in-house IT needs.
Fractional Employees
Have a dedicated IT staffer in your organization part time staffed by MetaTechnical.
Contract To Hire
As your business grows our support can grow with it. You may only need a contractor to start, but as your IT needs grow a full-time IT staffer is required. We can help you find the perfect fit.
Temp Services
If you have an IT job with a pre-determined expiration date, a temp employee may be a good idea. MT can supply you with a tech savvy and capable temp capable of doing the work needed.
Contact Us
Feel free to drop us any simple inquiries below. To request a consult, click below.
220 Haverford, Ave.
Narberth, PA 19072
Store Hours: 10am-5pm, M-F
MSP Support: 9am-6pm, M-F
WYNNEWOOD OFFICE
111 Old Gulph Rd
Wynnewood, PA 19096